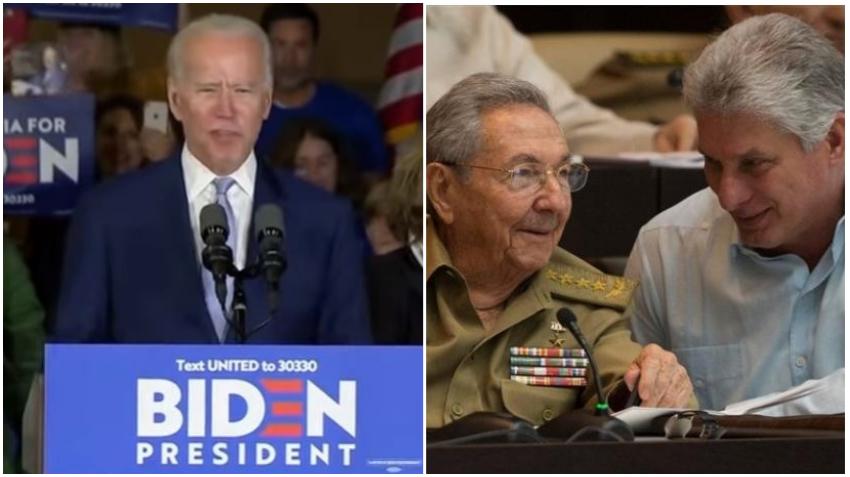 Un grupo de opositores exiliados cubano-americanos residente en el sur de la Florida han dirigido una "Carta Abierta" al actual Presidente de EUA Joe Biden, firmada en Enero 27 del 2021, pidiendo que se tenga en cuenta el criterio del exilio cubano de EUA a la hora de decidir una nueva politica de EUA hacia Cuba. A continuacion la mencionada "Carta" en dos Espanhol e Ingles:
Carta en Espanol
Miami, Enero 27, 2021
Mr. Joseph R. Biden, Jr., President
The White House, Washington DC.
Mr. President,
Los abajo firmantes representamos a un grupo de cubanos-americanos que por
años hemos luchado por la libertad de Cuba. Esa batalla no la realizamos como
demócratas ni como republicanos, sino como patriotas que buscan la democracia y la
dignidad de un pueblo que sufre una opresora dictadura marxista/militar por 62 años
ya.
Como el atropello y la miseria en esa Isla aumentan cada día, nos preocupan
sus declaraciones de que bajo su administración los Estados Unidos volverían a la
política del señor Barack H. Obama hacia Cuba, además de no tener en cuenta los
ataques acústicos a nuestros diplomáticos. Desde otro ángulo, sería humillante para
Estados Unidos ayudar a la financiación de esa dictadura sin ninguna apertura
democrática como contra-partida.
Señor Presidente, debido a lo anterior, nos permitimos alertarle y le rogamos no
se incurra en otro error histórico como el cometido contra la nación cubana hace
ahora 60 años, precisamente por una administración norteamericana, también en
transición, cuando el fiasco de Bahía de Cochinos en el año 1961.
En el recién concluído cuatrienio se le aplicaron a la dictadura medidas
coercitivas y se activaron los puntos 4 y 5 de la Ley Hulms-Berton, lo cual la tiene
acosada y afixiada financieramente.
De aliviarse o suprimirse dichas medidas, el régimen que oprime a Cuba tomaría
aliento y, desgraciadamente, se le insuflaría el oxígeno de nuestros dólares para que
fuesen capaces de prolongar su odiosa violación a los derechos humanos, quizás,
por 62 años más. Esto implicaría una traición a la República de Cuba con la cual los
Estados Unidos han mantenido históricamente relaciones especiales y fraternales.
Por favor, estimado señor Presidente, antes de volver a la fracasada política
hacia Cuba del señor Obama, aunque se haya establecido con la mejor intención del
mundo, consulte con el actual caucus cubano en el Congreso (3 senadores y 7
representantes de ambos partidos) y con todos sus asesores antes de tomar cualquier
decisión importante. Para la causa de la libertad de Cuba, nosotros somos
apartidistas; somos, simplemente, patriotas y humanistas.
Muchas gracias por su tiempo y su atención. Sin en algún momento considera útil
que personalmente pudiésemos abundar en más detalles sobre el contenido de esta
misiva, sería para nosotros un gran honor y un gran placer.
Sin más, respetuosamente, quedamos los abajo firmantes,
Mr. Angel de Fana Mr. Santiago Cardenas, MD Mr. Gerardo E. Martínez-Solanas
Mr. Pedro Corzo Mr. Efrain R. Infante Mr. Jorge Hernandez Fonseca
Carta en Ingles
Miami, February 9, 2021
Mr. Joseph R. Biden, Jr., President
The White House, Washington DC.
Mr. President,
The undersigned represent a group of Cuban-Americans devoted for many years
to the struggle for a free and democratic Cuba. We do not carry out that battle as
Democrats or Republicans, but as bipartisan American citizens and patriots seeking
democracy for and respecting the dignity of a neighboring people who has suffered an
oppressive Marxist / military dictatorship for 62 years now.
As the outrage and misery prevailing on that island increase every day, we are
concerned by recent statements announcing that under your Administration the United
States would return to the previous Cuban policy attempted by Mr. Barack H. Obama,
disregarding the unrelenting hostility of the Cuban government and not taking into
account the acoustic attacks on our diplomats. From another angle, it would be
humiliating for the United States to help finance such a dictatorship without any
democratic opening on their part as a gesture of good faith.
Mr. President, due to the foregoing considerations, allow us to alert you and to
beg you not to make another historical error such as the one committed against the
Cuban nation 60 years ago, when a US Administration, also during its transition period,
orchestrated the Bay of Pigs fiasco in 1961.
In the recently concluded four-year period of the previous Administration,
coercive measures were applied to the dictatorship and points 4 and 5 of the Helms-
Burton Act were duly applied, financially straining the Communist regime and putting
additional pressure on it.
If these measures are eased or abolished, the regime that oppresses Cuba
would recover its breath and, unfortunately, our taxpayer's dollars would give the
repressors additional oxygen for them to be able to prolong their heinous violation of
human rights for many more years to come. This would imply a betrayal upon the
Cuban people and the Republic they yearn to rebuild,such as the one the United States
had maintained special and fraternal relations throughout history.
Dear Mr. President, listen to our plight and consider not returning to Mr. Obama's
failed policy towards Cuba. Although that policy was established with the very best
intentions, its failure is quite evident. Please, consult with the current Cuban caucus in
Congress (3 Senators and 7 Representatives from both parties) and with all your
advisors before making such an important decision towards Cuba. For the cause of
Cuba's freedom, we are nonpartisan; we are simply patriots and humanists.
We'll appreciate very much for your time and attention. If at some point you
consider it useful and convenient to personally go into more detail about the content of
this letter, it would be a great honor and a great pleasure for us to meet you or to
answer your questions.
Respectfully yours,
Mr. Angel de Fana Mr. Santiago Cardenas, MD Mr. Gerardo E. Martínez-Solanas
Mr. Pedro Corzo Mr. Efrain R. Infante Mr. Jorge Hernandez Fonseca
Fuente: www.cubalibredigital.com